Getting any project, big or small, over the finish line can be difficult. And it's heartbreaking to see everything go right on a project only for it to falter at roll-out. Change Management is the best way to make sure the projects you're working on achieve their full potential.
Axsium developed our Change Management methodology over years of experience delivering high-impact WFM projects for clients around the world. We break it down into four major pillars:
This month, we're focusing on the first thing you need to think about when you're beginning to implement an organizational change: your stakeholders.
Who Are Your Change Management Stakeholders
I know what you're thinking: these sorts of articles always start with definitions. But in this case your understanding of who your stakeholders are may not be entirely complete. When it comes to Change Management, most people are pretty sure they know their stakeholders. Make a list of the groups that will be directly impacted and you're done.
Yes, the groups within your organization who will be directly impacted by the change are your stakeholders. But they aren't all your stakeholders.
When Axsium's Change Management experts are identifying your stakeholder groups, we ask a more expansive question. Not who will be directly affected by the change—we ask who has an investment in the change.
Invested and Impacted
We find investment is a great way to think about your stakeholders for two reasons. Firstly, it will help you get a much more accurate view of exactly who you need to be working with. Secondly, it's a handy reminder of the first principle of Change Management. Investing at the start will pay dividends at the end.
So, who are your invested Stakeholders?
Of course, they include the groups I've already mentioned—those directly impacted by the change. You should be able to identify them quickly. But you also need to think about the people around that initial group who will also need to adapt.
What you're implementing is going to have an impact on the day-to-day working lives of these people as well. And their buy-in, while not being as immediately necessary as the first group, is going to make a difference to your success. This second group of stakeholders could include HR, Finance, and Operations, to name a few. It may even include your customers.
And here's the really important thing. If you don't identify this large group of stakeholders, they won't just go away. If you don't identify them at the start of the project, you'll be taken off guard when they crop up as you're rolling out. And you'll likely have no idea what to do to help them.
How Your Stakeholders Can Impact Your Roll-Out
So, you've identified a wide group of stakeholders—all the people who are invested in your project. Here's the next step: find all the ways the change will impact them. I know, it sounds obvious. But let's dig into this idea a little bit.
You need to talk to your stakeholders. It's the best way to quickly see how what you're doing will change what they do. If you don't, you'll probably find yourself scrambling to understand what they might need later. Don't cause yourself a panic when you're already busy. Talk to all your stakeholders at the start of your change management project.
Tactical Examples
In each blog in our Change Management series, we'll use the example of our two fictional grocers, We Sell Tomatoes and We Sell Potatoes. We Sell Tomatoes is using the Axsium Change Management methodology. We Sell Potatoes is not.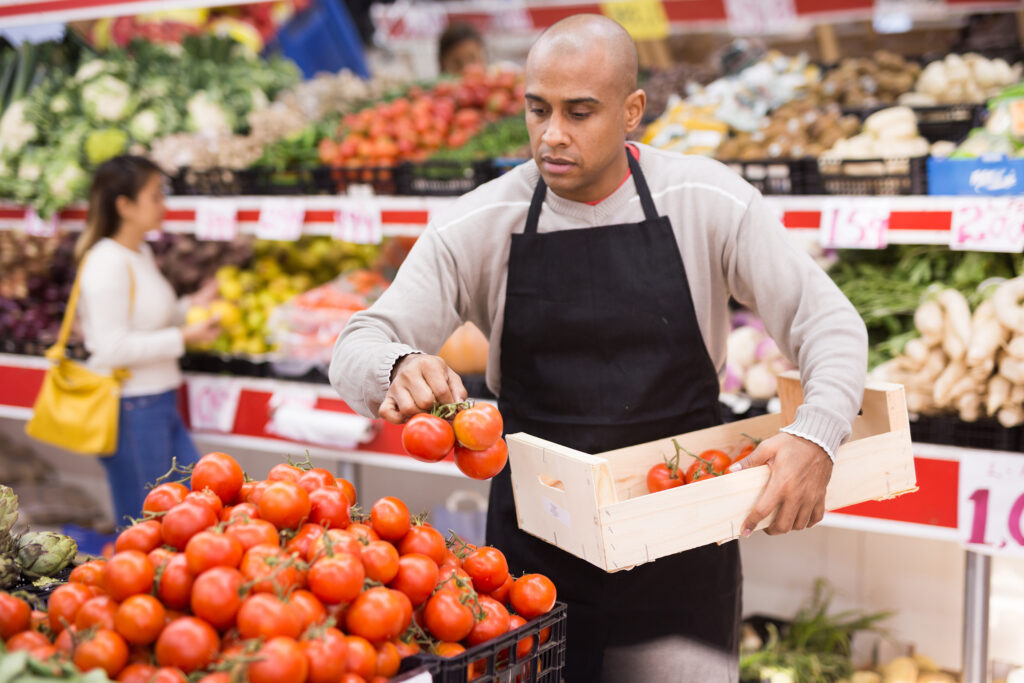 Identifying Stakeholders
We Sell Tomatoes and We Sell Potatoes are still at the start of their WFM implementations. They've found vendors and started to map out their requirements. They've started bringing SMEs onto the project team.
At this point in their WFM implementation project, We Sell Tomatoes are already thinking about Change Management. They kick off by creating a simple list of the stakeholders that will be most immediately impacted. Then their Change Management consultant suggests they dig a little deeper.
The We Sell Tomatoes implementation team sit down with representatives from each department to talk about the new WFM system. They go over the changes, as well as the potential impacts it will have on the company and build profiles for how each department will need to adapt. They then use this information to build a full and detailed plan to help each department adopt the change.
We Sell Potatoes, on the other hand, isn't taking a Change Management approach. They identify the same simple initial list, but without a Change Management professional to suggest it, they go no further. In addition, they don't start the process of identifying how that impact could be lessened or supported.
Results
Predictably, when We Sell Tomatoes roll-out their new WFM system, they understand which teams will be impacted. And they know what is likely to change for each team. Their communications reflect this, and a large portion of the company adopts the new system easily.
For We Sell Potatoes, the result looks very different. As the implementation team prepares to roll out, they receive an email from Finance. Someone on the Finance team was talking to a friend from another company. That friend told them how their Finance department log hours using the same system We Sell Potatoes is moving away from. Suddenly, it's clear the new system will mean a big change in how Finance does things. But no one at We Sell Potatoes is fully aware how big. And roll-out is scheduled for the following week.
Somehow, the implementation team scrambles to understand the impact on Finance and develop messaging for the team. But it means other vital tasks in the roll-out get completed late. And two days after launch, it becomes apparent that a lot of the cashiers don't understand how to go through the new close out procedure.
Now there's yet another issue that needs to be understood and communications to put together. All this trouble could have been avoided if We Sell Potatoes had simply identified and talked to all their stakeholders.
Kotter's Change Method
Kotter's Change Method is a great way to think about the impact of stakeholders on the change process. Its eight-step program is very focused on stakeholders. In fact, the first four of the eight steps are all focused on identifying stakeholders and the impacts on them. When you're using Kotter, they're the best way to build buy-in and keep the change moving forward.
In doing so, Kotter's Change Method creates what it calls a Coalition of Leaders from key groups. This Coalition helps to get volunteers, line up next steps, and start the change process for you. With that stakeholder buy-in, you are well on your way to the next phases. Those subsequent phases are all about mitigating risks and paving a pathway to the core of each stakeholder group.
What Next?
By now, it should be clear that your stakeholders are one of the keys to your Change Management success. And that's not just at the onset, but for the full Change Management process. Axsium's experts pride themselves on their ability to identify and engage the right stakeholders for every project. Contact us today to find out how we can help you.
And tune in next month as we talk about another important part of Change Management: communication.