Last week, UKG began rolling out Dimensions Release 8 Update 3 to customers around the world. And it's not over yet—the roll-out will continue throughout April. This is the final minor release before the Dimensions Release 9 schedule begins this summer.
This may be a "minor" release, but UKG has packed it with new functionality. Release 8 Update 3 will help your user experience, system administration, and overall compliance! So, let's highlight the noteworthy improvements coming to your Workforce Dimensions system.
This release has a number of major themes:
Improving your brand identity within the application
Increased accruals and web-based punching analysis tools
New advanced scheduling functionality for existing employee self-service tools
A brand-new Auditor feature, available with the Analytics entitlement
These tools will empower your managers to work smarter and leverage tools that will give you an even better Dimensions experience. You just need to make sure you're taking advantage of the new functionality. Axsium Group's Managed Services team has a long history of leveraging updates and new features for the leading WFM solutions.
Improving Your Brand Identity
Release 8 Update 3 makes significant stylistic changes to your Workforce Dimensions application. Icon, typography and color palate updates bring a more refined look to both the desktop and mobile versions.
This is in addition to the New Home Page Experience. The newly redesigned tile interface means a more pleasant viewing experience, no matter what device you're using.
Importantly, up to this point Dimensions has automatically turned off the New Home Page Experience feature. This will change with Release 9, when Dimensions will move all customers to the new Home Page and theming experience. You should take this opportunity to prepare for the change and avoid getting caught off guard in the summer.
With Release 8 Update 3, UKG gives you even more customization possibilities to help you represent your organizational brand in Dimensions. This includes the ability to add color to your icons. And if you don't have a specific wallpaper image to display, you can now choose a theme-able background color.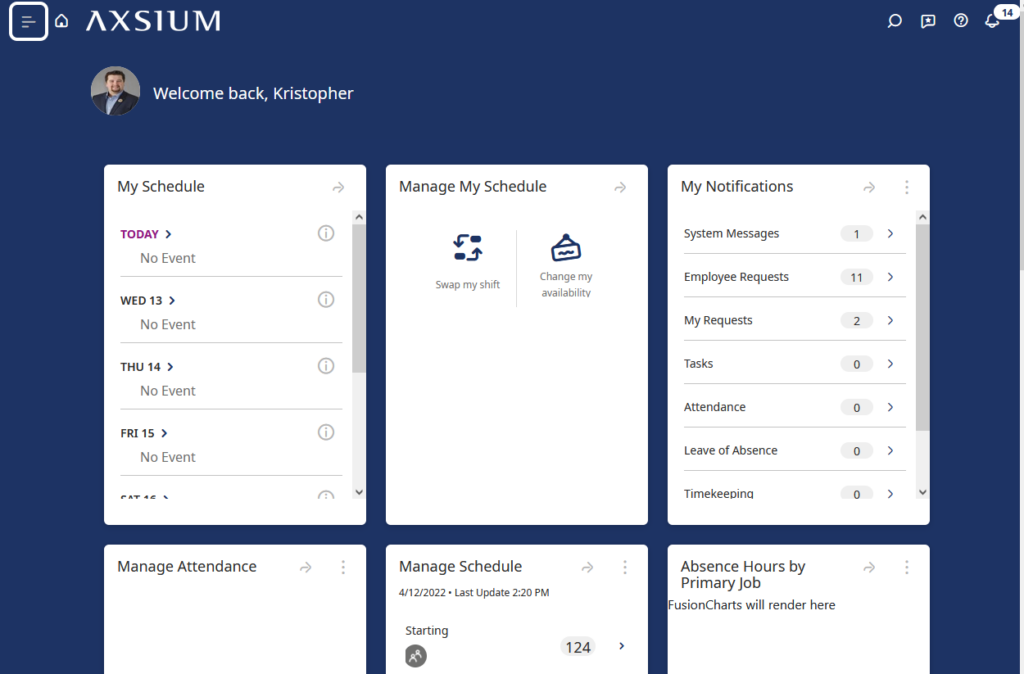 Increased Accruals and Web-Based Punching Analysis Tools
The Accrual Analysis Tool
Today, administrators can interpret pay policies using the Rules Analysis function in the timecard page, answering the question "Why is an employee being paid a certain way?"
However, answering the "Why is an employee's accrual bank a certain amount?" has historically been more challenging. Administrators have had to use a combination of dataviews and reports to interpret the events leading to an accrual bank balance.
Dimensions' new Accrual Analysis Tool allows administrators to diagnose accrual balances directly in the timecard. You can now do this by visualizing individual transactions associated with the employee's accrual codes.
You can turn this feature on with a Function Access Profile change. Similar to the long-available Rules Analysis function, the Accrual Analysis Tool will allow your managers and administrators to more easily interpret accrual information.
Mobile Punch Maps in Release 8 Update 3
If you use mobile-based punching, you know it can be difficult to identify where employees punch in and out. Punch Maps is a two-fold feature in Release 8 Update 3 that allows both managers and employees to better visualize those locations.
Firstly, a map displays on the Punch tile for employees and displays their current location against a map). Dimensions will let employees see where the system thinks they're located so they can feel confident the data is correct. This is especially important for employees who work on the road or from home.
Secondly, managers will be able to access the most recent punch information for their workforce in an easy-to-use tile on their home page. This will allow them to quickly identify the exceptions they need to review further with the employee(s) in question.
This feature is currently only available to employees and managers on the Dimensions mobile app.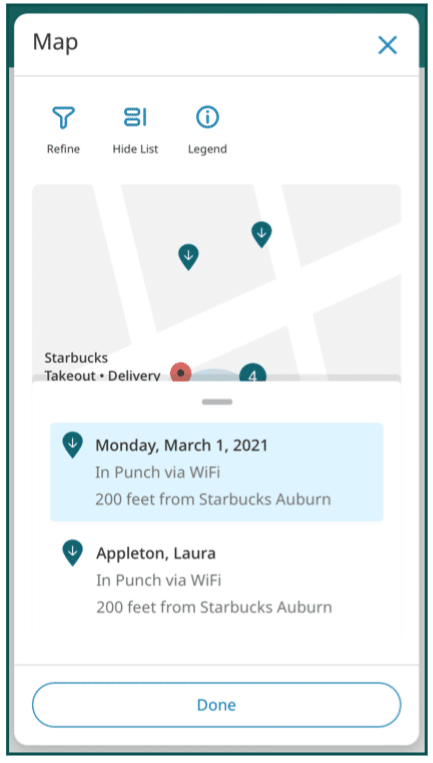 New Advanced Scheduling Functionality
Partial Open Shift Requests
Today, when an Open Shift becomes available for employees to request, they can only request the full-length. In Release 8 Update 3, you can now set parameters that let employees request a portion of the shift.
Customers can now add partial shift request criteria to their Open Shift request setup. You'll be able to set parameters around what qualifies as an appropriate partial open shift request. For example, you can specify whether the partial shift must include the start or end time of the original shift. You'll also be able to set the minimum requestable partial length and the minimum shift length employees can leave.
And employees can now see these constraints in their Open Shift request workflow. If an employee breaks any of the defined parameters, the application will display an error message. Your managers will be able to see and approve the requested partial shift and the remaining portion will still be available.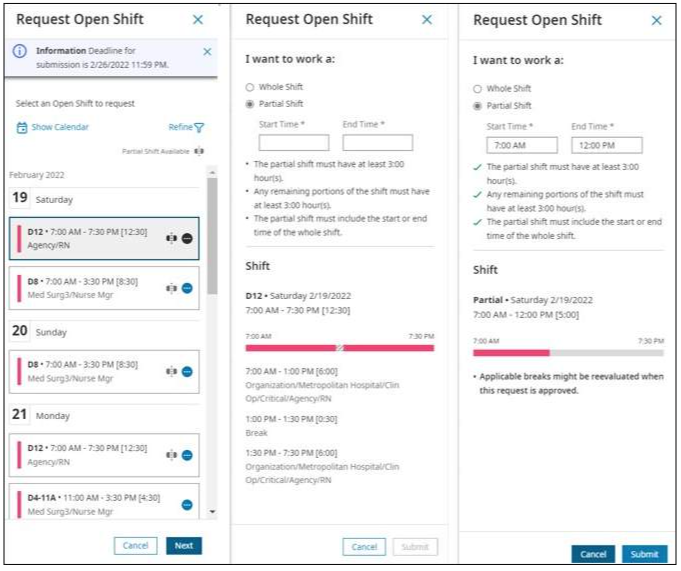 Admin-Defined Dataview Filtering and Sorting
A recent Dimensions release feature allowed system administrators to create default charts and push them down the end-user. Now with Release 8 Update 3, managers can pre-filter and sort dataviews. This means that you can manage practically all dataview functionality at the system administrator level. And administrators can push even more down to the end-user for an even better dataview experience.
The exciting thing is that this feature removes the need for each individual user to manually personalize their dataviews. This reduces the likelihood of end-users setting up the dataviews incorrectly and makes it easier to interpret the data correctly.
Auditor: Release 8 Update 3's AI-Powered Analytics Feature
Employees and managers spend a lot of time editing timecards and schedules. Some edits are necessary, but some people do them to circumvent system calculations. These actions and edits can make you non-compliant—left unchecked they can even have legal implications. Especially if they are systematic and occur regularly.
Workforce Dimensions' new Auditor feature is an Artificial Intelligence (AI) interface. It allows organizations to identify potential risk locations and users with substantial amounts of schedule and timecard edits. Importantly, Auditor is only available to customers with the Analytics entitlement.
Your administrators will be able to identify High Risk Locations and the behaviors the interface flags as risks. They'll also be able to see how these locations differ from the rest of the organization. For instance, you can review and analyze the number of Punch Time Edits by location.
Your administrators will also be able to view High Risk Users and identify who's making your problem edits. They'll also be able to see if the edits are systematic and/or regular. For example, the system will highlight if manager John Doe at Location A makes regular punch changes of less than 15 minutes from the original punch time.
And that ability to identify High Risk Users isn't only for manager edits—it includes employee behavior. For example, if Jan Doe, an employee at Location A, regularly has more "extra time" exceptions than her teammates you'll be able to see it.
The Auditor tool helps you quickly identify locations and users who are using the system in abnormal ways. From the Auditor screens, you can use the more traditional Audit pages to start your investigation into the problem edits.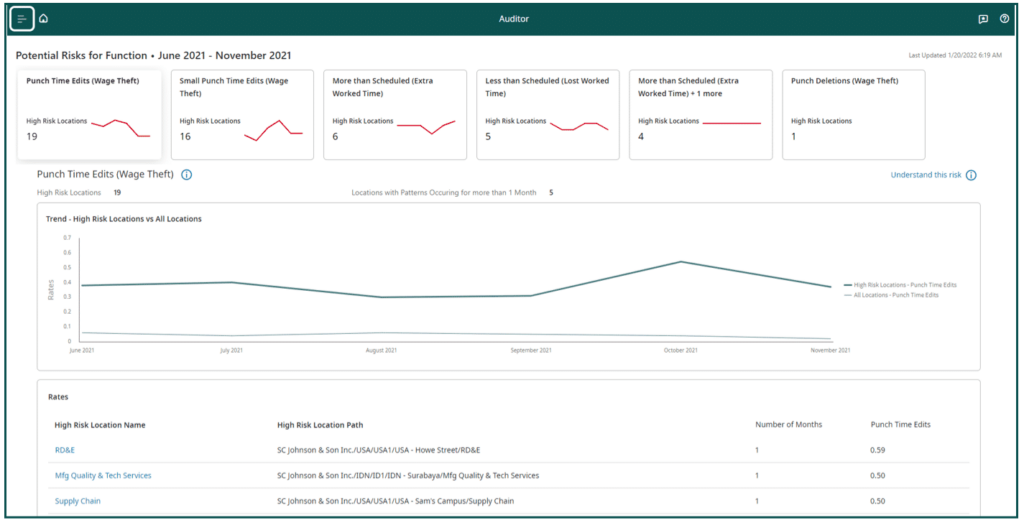 Making Release 8 Update 3 Work For You
Need a system health check to see if you're taking advantage of the latest Dimensions features? Axsium has a long and successful history of helping clients out with just that sort of project.
Reach out if you would like to discuss any of the new features we've outlined here, or anything related to your Workforce Dimensions solution. We're ready to help you bring your Workforce Dimensions system to life and improve your workforce's experience!