The Axsium team is in Las Vegas for the next three days attending the KronosWorks user conference. The event brings together technology experts, workforce management professionals and industry thought leaders to share knowledge about workforce management trends and Kronos products and services. Two of our WFM expert consultants attended a few the technology sessions. Here's what they had to say.
Some notes from Director, Chris Flanders
Session: Workforce Central and Flash
Adobe is ending support for Flash in 2020. Already browsers like Google Chrome are starting to restrict Flash on websites. Unfortunately, Kronos Workforce Central Navigator UI currently relies on Flash.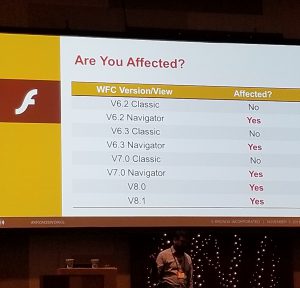 The image shows which versions and UI of Workforce Central are impacted:
What options do impacted Workforce Central clients have?
If v7 or earlier, stop using Navigator and use the classic UI only (still requires Java)
Upgrade to WFC v8.1 service pack 3 (available in December 2018) which will be mostly Flash-free
Migrate to Workforce Dimensions
There are a few Navigator Widgets in 8.1.3 which will still need Flash. Those are expected to be fixed in a service pack later in 2019 or will be deprecated.
Session: Migrating to Workforce Dimensions
There are three phases when migrating from Workforce Central to Workforce Dimensions.
The slide shows the big picture of those phases: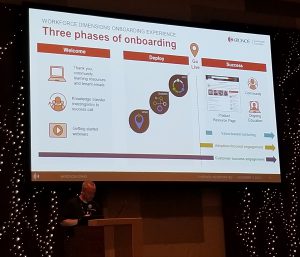 Deploy, the second phase, is where the configuration is moved from Workforce Central to Dimensions. Approximately 70% of the core Workforce Time Keeper configuration can be copied over. Essentially all configuration elements that do not rely on labor levels or other components of Workforce Central that no longer exist in Dimensions can be copied. There is a tool that is used to extract configuration from Workforce Central and imported into Dimensions, similar to Workforce Central's Setup Data Manager.
Migrating to Dimensions is a good time to ask questions about your existing usage of Workforce Central to see what improvements can be made or what old configuration can be left behind. It is also a good time to consider using new functionality or optimizing your business processes.
Integrations are a big component of migrations because WFC interfaces and custom reports cannot be transitioned to Dimensions. Additional effort must be taken to design, build, and test new integrations using new tools like Dell Boomi.
Change management must also be carefully planned for successful adoption of the new product. Kronos has documentation resources that can assist with that process.
Follow Chris on Twitter @FlandersChris
More insight from Director, Jan Worosz
Session: The Benefits of Automated Testing in a SaaS World; by TestAssure
TestAssure is a new software offering that allows clients to reduce the timeline of the testing phase while increasing the speed to test.
While not all testing can be automated using a tool like TestAssure, it allows the client to focus on the aspects of the solution that drives the business.
The software reduces testing time from weeks to a few days and can run thousands of tests within a few hours.
Testing is all about providing confidence quickly. Automated testing supports the need to deploy to production at a high frequency like a two weeks cycle or less.
SEE TUESDAY INSIGHTS FROM KRONOSWORKS 2018 HERE.