Our Axsium team just wrapped up Day 2 at the KronosWorks conference here in Las Vegas. It was another successful year on the expo floor at our booth where we showed Workforce Central customers a clear path to a Workforce Dimensions migration and a host of other services we offer for current Workforce Central customers. We also had a few of our workforce management expert consultants attend technology sessions so we can better serve our Kronos platform customers.
Here's what they had to say:
Directors Chris Flanders and Jan Worosz
Attended Session: Workforce Dimensions Integration Platform
Dimensions is an incredible breath of fresh air when it comes to integration opportunities compared to Workforce Central.
Kronos showed the slide below to represent the continuum of integration opportunities with Dimensions.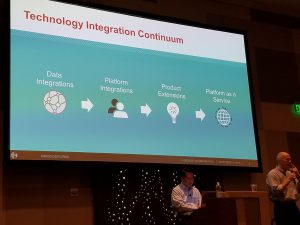 Essentially, integrations can consist of:
Data integrations (like interfaces)
Platform integrations (like Outlook)
Product extensions (expanding the use of Dimensions through API's)
Platform as a Service (PaaS)
All of these options provide new opportunities to be creative with the usage of Dimensions in each customer's unique corporate architecture.
More insights from Chris Flanders
Session Attended: Tips and Tricks for Workforce Central IT Sys Admins
Kronos has gained a lot more experience administering Workforce Central systems, thanks to the last few years of customers utilizing the Kronos Cloud. The best practices on how to optimize Workforce Central are largely unchanged but are still crucial for customers who maintain the system in the own data center. Here are some highlights that caught my ear:
Clearing out the transaction assistant periodically is good for overall system performance.
Changing the XMLUser password will require you to go to every single web server and run a command line encryption utility to generate a hashed value for the openfire.xml file.
If you utilize Oracle 12c database, you should turn off adaptive optimization as it works against the performance of Workforce Central transactions.
Hyperfind risk index in the bestpractice.log file should be 21 or lower.
Genie columns with more than five columns can be slower and operational reports should be considered as an alternate solution.
Follow Chris on Twitter @FlandersChris