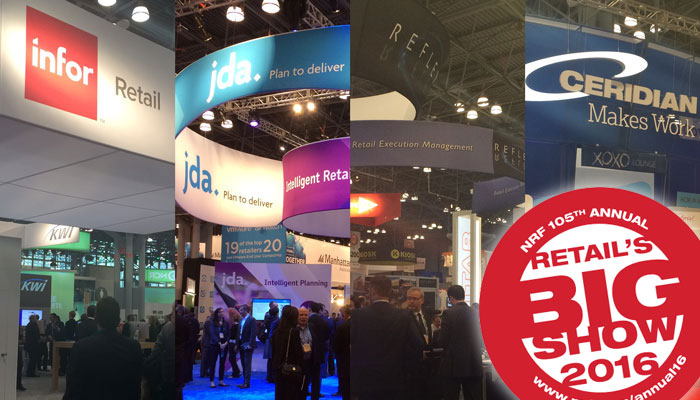 The National Retail Federation's Big Show 2016 has just wrapped up and as I unpack my bag from New York, here are the top five things that have stuck with me:
The biggest buzz? WorkJam. WorkJam was the most talked about workforce-related solution at NRF.  Retailers were buzzing about this new employee engagement company.  WorkJam is both the name of the company and their platform that enhances traditional employee self-service capabilities by extending schedule management, improving communication with and between associates, and adding employee recognition, performance management, learning management and more.  WorkJam works standalone as well as with leading workforce management vendors.
The Kronos acquisition of Empower. Kronos announced it had acquired Empower Software Solutions just before NRF (you can read my take on the reasons why here) and everybody in the WFM market – vendor, consultant or retailer – was talking about it. While Empower had a relatively small share of the retail workforce management market, their acquisition has a polarizing impact on the competitive dynamics of the space, making each vendor's competitive value proposition a little more clear.
Reflexis's new scheduling user experience. Reflexis debuted a new user experience for its workforce management products.  The company is taking a tablet-first approach to the design and applying the look-and-feel across platforms and devices.  The new design simplifies, streamlines and integrates their scheduling and time and attendance user experiences.  I had some hands-on time with a pre-release version and was impressed by the clean design and responsiveness.  I can't wait to see it in the hands of store managers.  Coupled with their earlier release of the MyWork user interface, Reflexis has made great strides in this area.
Compliance and Scheduling Fairness. When retailers got down to talking about their biggest workforce management challenges, compliance was on everybody's mind. Regulations around family leave, minimum wage, overtime, healthcare and scheduling are changing very quickly.  On top of that, municipalities are enacting their own labor laws, making compliance that much more complex.  Scheduling fairness – such as the Retail Workers Bill of Rights enacted in San Francisco – probably causes retailers to break out into the most sweat.  Although I think most people agree with the principles of fair schedules, complying with these laws is challenging and represents a tremendous cultural and policy shift for many organizations.
Customer Counting. Omnichannel and Analytics are still the over-used buzzwords in retail, but I was surprised by the number of customer counting and customer analytics solutions on the expo floor. It seems like this market has exploded in the last few years with both new hardware and software vendors entering the market and existing ones introducing new solutions. One of the cooler customer counting technologies I saw came from Lavi Industries.  Lavi started out making and supplying stanchions and belts that help retailers form lines at their cash-wraps and service desks.  Once they got customers into lines, the company began developing and supplying technology to help retailers manage their queues. This includes electronic queuing, virtual queuing and queuing analytics.
Now, it is time to try and catch-up on my sleep.  It was a long week.  New York was great, but it is time to recharge my batteries.