In my NRF 16 wrap-up, I said that WorkJam had the biggest buzz of any workforce-related vendor.  Every retailer that I talked about had either said how cool WorkJam was or were on their way to get a demo (and then said how cool it was when I saw them later).  I know of at least one executive that emailed his entire team making it mandatory they stop by the WorkJam booth to see the product.  If you were at NRF, you know what I am talking about, but if you missed NRF, let me explain why WorkJam is so buzzworthy.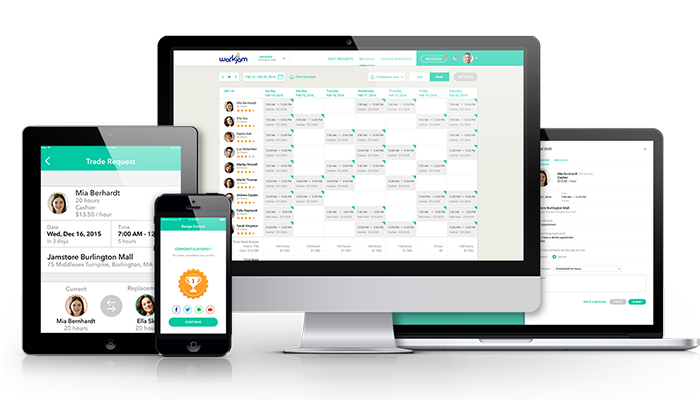 WorkJam positions itself as an employee engagement platform.  It offers SaaS-based platform delivered via browser, tablet or phone to help businesses manage their employees and help employees manage their work and personal lives. To accomplish this goal, the company offers three packages: Engage, Extend and Schedule:
Engage provide core messaging, training, rewards and recognition, performance reviews, channels, and community.
Extend allows employees to view and manage their schedules and availability, trade shifts and pick open shifts. Extend integrates with leading WFM solutions to render the schedule through the WorkJam user experience and write changes back.
For companies without a WFM solution, Schedule is its third package. With Schedule, companies can create and manage schedules.  From what I can tell, this solution is not intended to take on the enterprise-class WFM vendors but serve as a basic solution for those that write schedules by hand or use Excel but want to increase employee engagement with WorkJam's other modules.
It should also be noted that while I saw WorkJam at NRF, the solution is not retail-specific.  It is broadly applicable for any employer with a large, geographically-distributed hourly workforce.
On the surface, it is tempting to say, "There isn't anything new here." Individually, each feature has been done before.  The Extend module might sound like a typical mobile or self-service module offered by other vendors.  Messaging and communication?  Aren't we drowning our stores with communication?
What makes WorkJam special is its design.  Each feature is brought together into a single, elegantly-crafted application.  Each user story is well thought out, delivered in an intuitive user interface.
Consider WorkJam's communication module. This is more than email replacement.  Of course, corporate and managers can message employees, individually or in groups.  Messages can be targeted to groups of employees by skill, schedule or geo-location. Channels can be setup allowing retailers to make curated content – such as corporate news or an upcoming promotion – available in an organized, easy-to-consume way.
Beyond pushing information to employees, WorkJam provides employees with their own voice.  Employees can message each other, their manager and corporate team members in a secure, controlled way.  Employees can contribute to content on channels, sharing their knowledge ideas and experience with others.  For employers that want their employees to be brand ambassadors, sharing links can be embedded in messages allowing employees to share them on social media.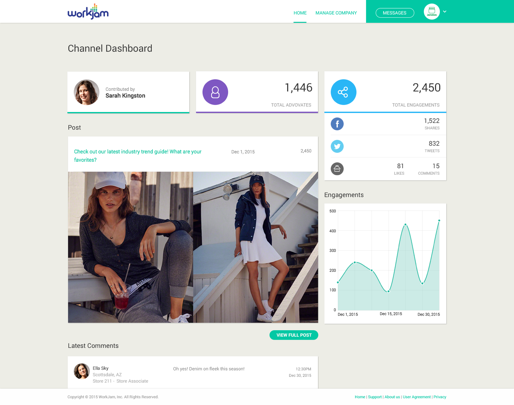 And, of course, all communication is tracked.  Statistics are provided to help retailers understand the reach of their messages.  Find out who is consuming and who is contributing.  Understand how many employees shared content and what the reach of the content was on Twitter or Facebook.
It is like this across the WorkJam suite: simple concepts, connected, expanded, and then, taken to another level.  For employers looking create more engaged employees by empowering them with communication tools, providing them with recognition, empowering them with on-demand training, or giving them more control over their work-life balance, WorkJam is definitely worth a close look.