Skilled workers are 2021's labor strategy hot topic—where do you get them and how do you keep them? In fact, it was a common theme in this year's Axsium WFM Forums. Like me, you might be wondering why, in a year that has presented so many new obstacles, this is the one getting so much attention.
Businesses have been concerned about the challenges and costs associated with retaining and developing these valuable team members since the early 2000s. The compounded effects of a labor shortage, increased customer demand, and an increasingly competitive job market have intensified the problem, making it a priority right now. But what can you do about it?
There are three tried-and-true areas where some simple changes can have a big impact on your ability to find and keep the skilled workers you need:
Attract the Right Candidates
Everyone's looking for high quality candidates to join their team. You need to make your vacancies stand out in a sea of openings. Do you put your benefits front and center? Or word your job description in a fun and engaging way? Put yourself in the candidate's position—what would compel you to take the time out of your busy day and hit Apply?
Take a critical eye to your job requirements. In a mobile employment landscape, is having your new hire working in the same city essential to customer satisfaction? If not, you could consider opening the position to remote candidates. Sometimes, adjusting just one requirement can make a huge difference.
In the same vein, make it easy for candidates to apply. If the application process is too hard, cumbersome, or time consuming—or just plain frustrating—I guarantee you're going to lose some quality jobseekers right out of the gate.
Imagine your perfect candidate, a talented, long-term, dedicated team member who could help grow your business. Now imagine them not applying for your position simply because of your application process. Not a good scenario, right? Getting this process right is worth the investment.
Train Like Your Labor Strategy Depends on It
Onboarding, upskilling, and ongoing training—these three key areas drastically impact an employees' experience and opinion of the company they've joined. The first 12 months in a new role are critical to ensuring that your new hire is a productive, value-added addition to the team. Drop the ball and your new team member could quickly be looking for a company that offers them more.
Get these three areas right and you'll soon get a reputation for investing in your employees. A reputation like that will attract more of the kind of employees you want to work with. And if you put effort into making your employees feel welcome and well-prepared to do their job, they will pay that back in spades.
Retain Your Best Team
You've found the perfect candidate and on-boarded them successfully. What are you doing to actively ensure they become a long-term team member? You can't just get a new employee set up then walk away. A robust and active engagement program can quickly tighten a new recruit's bonds with their new company and team.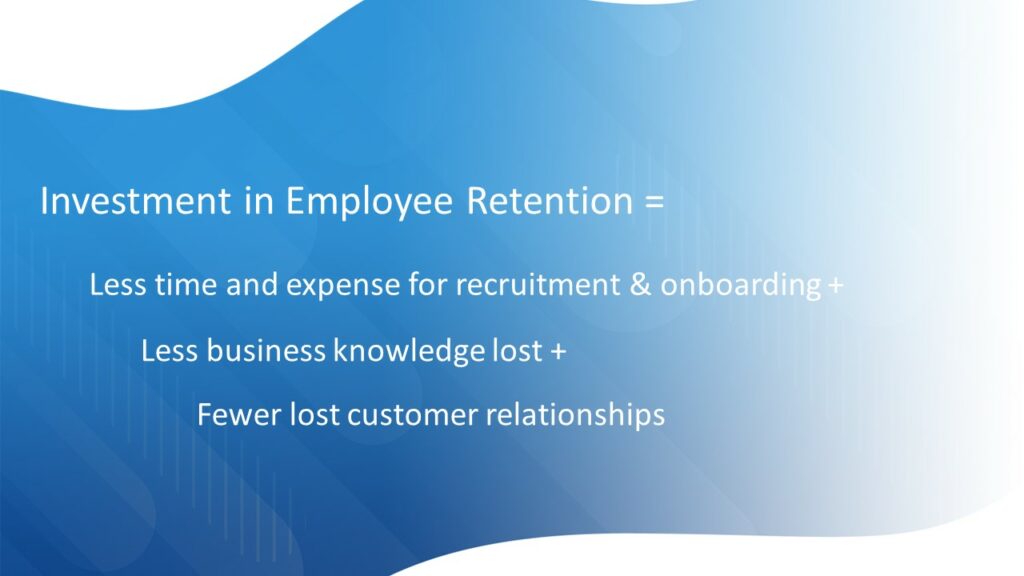 Think about implementing a reward and recognition program. They may seem old school, but taking a new twist on an old concept can make your new teammate feel that their work is appreciated and important. Remember, when an employee feels like they're part of a strong team, they're less likely to respond to offers from competitors or actively look for a new role.
Even when you have a good retention program in place, plan for change. People will move jobs throughout their career. It's not just inevitable, it's an important part of growth and skill development. In fact, this is exactly how you get well-rounded candidates who can add value to your business.
Have a robust succession plan for all key roles in your business and share it with your team. While it's always sad when a valued employee decides to leave, try to see the loss as an opportunity for their teammates. And employees who know they have a pathway and opportunities in your company have a great incentive to stay with you.
In Conclusion
It's one thing to talk about how to attract and retain those skilled employees that are in such high demand right now. It's another to get those helpful tips working for you. Try reviewing your current HR process and asking yourself if you're doing everything you can to Attract, Train, and Retain the talent you need. You might need to update your processes to get yourself on the right path.
When you're thinking about how to find and keep those all-important skilled workers, your current team are an invaluable resource. You may think you're doing everything right, but your employees will have a perspective on your efforts that you could never have.
And remember, you don't have to make changes like this alone! If you're not sure where to start or what changes to implement first, Axsium is ready to lend our expertise.