The "labor demand curve" is a key workforce management concept that impacts how employers decide on the amount of labor needed at a given location on a given day — and even from one hour to the next.
To maximize profitability, companies need an accurate picture of the labor demand curve. And they can only get an accurate picture using accurate forecasting data and managing that data with the right tools. Thankfully, Axsium's workforce management consultants can help organizations do just that.
By better forecasting when and where customer demand will be high, organizations can more efficiently manage the number of team members they need to have working at any given time. This helps them improve their organization's workload management processes and build more accurate schedules. It also improves employee performance and labor productivity, raises customer satisfaction, creates a happier workforce, and maximizes your hourly workers' ROI.
Why is Workload Management Important?
Workload refers to the total amount of labor that is expected to be needed on a given day. Organizations that struggle to accurately predict workload will often find themselves overstaffed or understaffed—each of which brings its own set of challenges and project management issues.
Many businesses compete for consumers that value convenience and efficiency above almost all else. Being understaffed threatens your employees' ability to handle multiple tasks, and to deliver the productivity and efficiency that makes satisfying your customer's needs possible.
Understaffing also frequently leads to increased levels of stress throughout the workforce. Employers need to be sure their employees are not overworked, or saddle them with an excessive workload. With uUnrealistic job demands and insufficient staffnot enough people to handle all the tasks., it can lead to burnout. This in turn, which can significantly reduce employee morale and productivity, not to mention increased turnover over time. Turnover means training, and training costs money.
Clearly, underestimating workload is an important issue. However, the pendulum can also swing too far in the other direction. Overestimating workload means that you will be overstaffed. If you have too many employees to cover a day's assigned tasks and the team's workload is too light, your employees will find themselves idle, without ways to be productive.
In addition to the obvious payroll costs of being overstaffed, research suggests that overstaffing alsothis too leads to engagement and job satisfaction issues among workers. After all, your employees thrive when they have a sense of purpose—not when they are bored or wondering what to do.
How Can Companies Go About Improving Workload Management & Building Accurate Workforce Management Forecasts?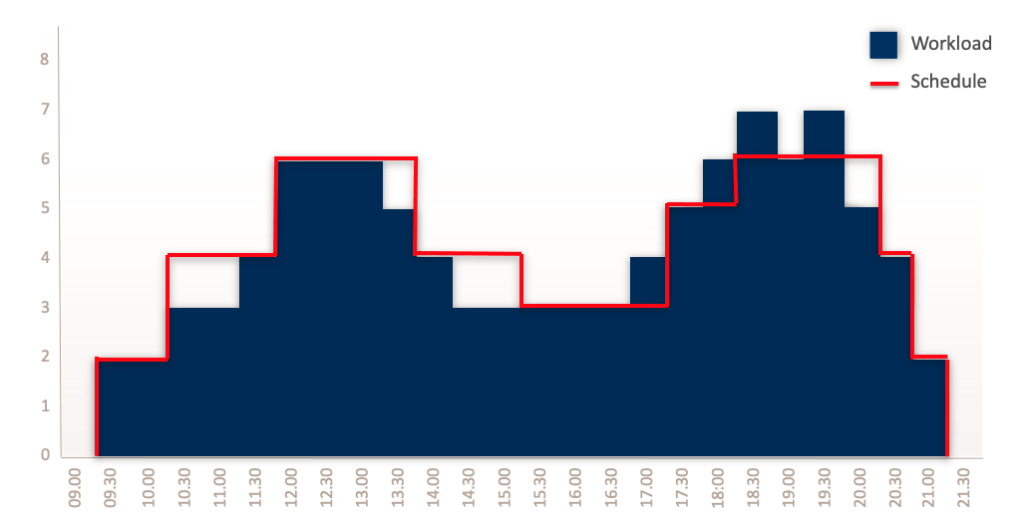 To properly manage workload demands as well as employee hiring and scheduling, companies need as accurate a picture as they can get of their specific labor demand curve. This requires good forecasting data to work with.
What Forecasting Factors Influence the Labor Demand Curve?
A number of factors influence an organization's labor demand curve. They include some of the following elements:
Who Your Customers Are
Are your customers teens? College students? Are they seniors, stay-at-home parents, or nine-to-five workers? Variables like this affect when and where they will shop, what they will buy, and in what quantity.
When Your Customers Shop
Applying workload management skills requires that you know when your customers are shopping. Do they primarily shop on weekends or weekdays? Do they prefer to shop in the mornings, at lunch, or in the evenings? This sort of information has a significant impact on your labor demand curve.
Where Your Business is Located
The neighborhood in which your business is located can make a big difference in labor curve calculations. For example, being in the downtown core is different from a suburban retail outlet; being located in a strip mall differs greatly from being in a major department store in a city's fashion district.
Historical Data
Is your business seasonal? Just as you would want to track progress Historical data—from last week, last month, or even this time last year—can have great predictive value forabout what is likely to happen in the future. The data is crucial to helping your employees manage their day-to-day effectively, the data is crucial.
Current Events
Many businesses are heavily impacted by the weather. Customer demand in retail can be dramatically affected impacted by rain, snow, or excessivethe heat. Natural phenomena such as floods, forest fires, heat waves, or blizzards can have a similar effect.
These are just a taste of the dozens or even hundreds of variables youthat must be accounted for if you want to accurately predict your labor demand curve.
How Can I Build a Better, More Accurate Model of the Labor Demand Curve for my Business?
Weighing the relative value of all these variables is almost impossible without the right tools. Today, this means leveraging the powerful artificial intelligence and machine learning forecasting engines embedded within your workforce management solution, such as those from UKG, Infor, and others.
YIf you to approach your labor demand curvedon't do this properly. If you don't,, you'll either have too many workers with too little to do during low periods., Oor you could have too few employees without theenough time or resources to properly drive profit during busy periods.
However, learning how to properly implement, configure, and optimize a WFM solution can be a gargantuan and complex task.
That's where Axsium comes in.
How Can Axsium Help?
Axsium's experts create accurate labor models and precise labor standards. They can increase employee efficiency by helping your team adopt processes that are faster and more reliable.
Axsium can assist you by optimizing employee habits with policy changes, process standardisations, and new Standard Operating Procedures (SOPs), as well as through hands-on training for employees and managers alike.
Axsium's expertise in labor productivity will help you gain a deeper understanding of the experiences of both your employees and customers. Our detail-oriented approach covers everything from mapping foot traffic and analysing customer demographics to clarifying the link between customer interactions, satisfaction, and sales dollars.
In short, the workforce management consultants at Axsium will help you bring a new level of insight to how you manage your business. They work to achieve:
Reduced costly and unnecessary overstaffing
Increased customer service quality
Increased sales
Improved efficiency
Happier, more productive employees with less idle time
Where Do I Sign Up?
Simply book a free consultation, and Axsium will show you how you can build out an organizational structure, talent strategy, and a set of staffing rules that will help meet the ever-evolving customer expectations you face.
Axsium builds roadmaps in consultation with our clients. Our experts also provide the ongoing expertise you'll need to succeed over the coming years. Get in touch and find a WFM partner committed to finding solutions that work for you in the short and long-term.