If you're in the Northern hemisphere, the next few months are a time of long, warm days, weekends spent barbecuing, and vacations. In Australia, where I am, it's winter. I'm a little jealous. But this year, we all get to enjoy the newest major UKG Workforce Dimensions release!
UKG will be rolling out Release 9 globally to customers in their Non-Production environments in July and August. Customers will receive the update in their Production environments in August and September.
This release features much-needed accessibility and functional updates. Not only will R9 help users feel more connected to the solution, it will promote autonomy and adaptability.
Here's a few major features and changes coming to Dimensions in R9:
Complete transition to new home screen and branding updates
Partial shift request to cover
Team time off calendar
Timecard rounded punch view
Automatic firmware management
Complete Transition to New Home Screen & Branding Updates
In Release 8 Update 3, UKG made it clear that the classic home screen along with its various sized homepage tiles would be ending. R9 features a newly improved homepage experience with a more structured tile layout, and improved graphics and fonts.
The home screen tiles are now all the same size. No more fiddling with small, medium, and large tile configurations. UKG have also updated Workforce Dimensions' font and font size, making the lettering bigger and bolder.
And as though that doesn't make the homepage significantly easier to view, UKG have also updated the icons and messaging. The Workforce Dimensions home screen is becoming a much friendlier and welcoming place!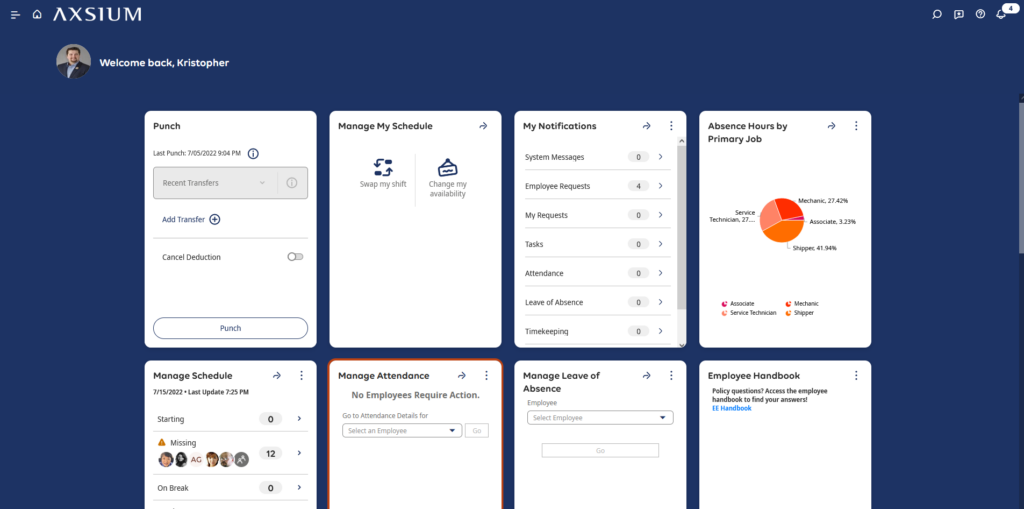 Those aren't the only changes to the home screen. You can now develop multiple custom branding experiences. Want a specially branded home screen for different seasons or corporate events? Now, you can design your special branding and activate it when you want. And you'll be able to go back to your original branding afterwards if you want.
Don't have custom branding in your environment today? You can easily toggle to new pre-built color palates, including English Violet, Legacy Blue or Midnight.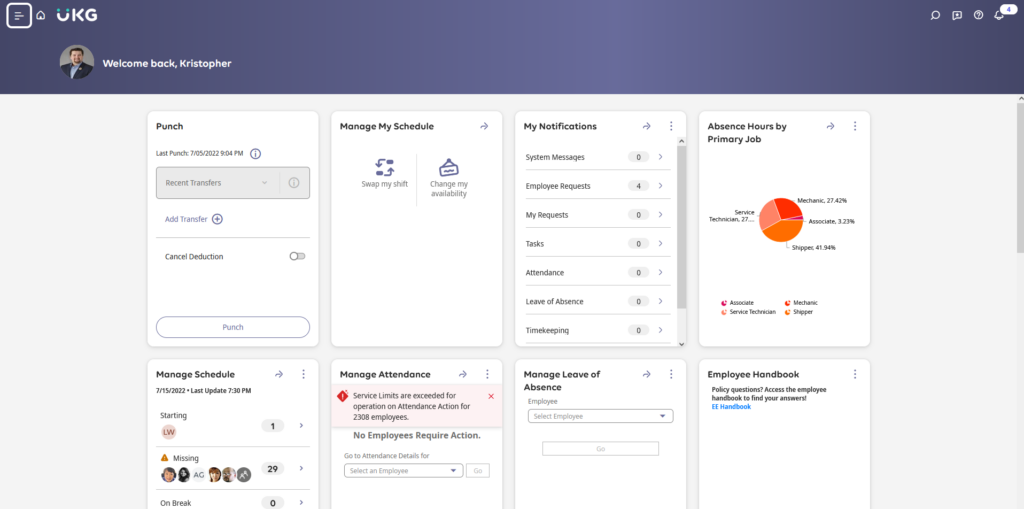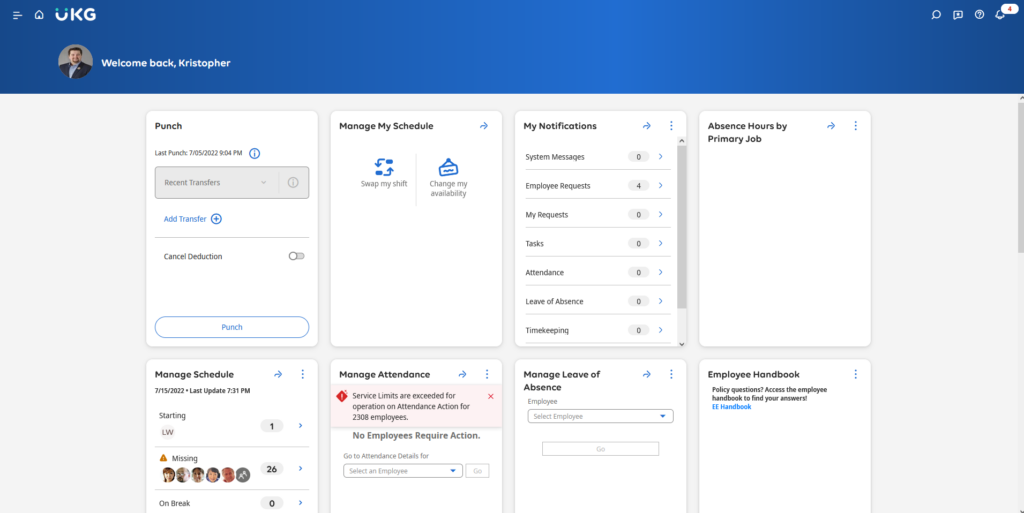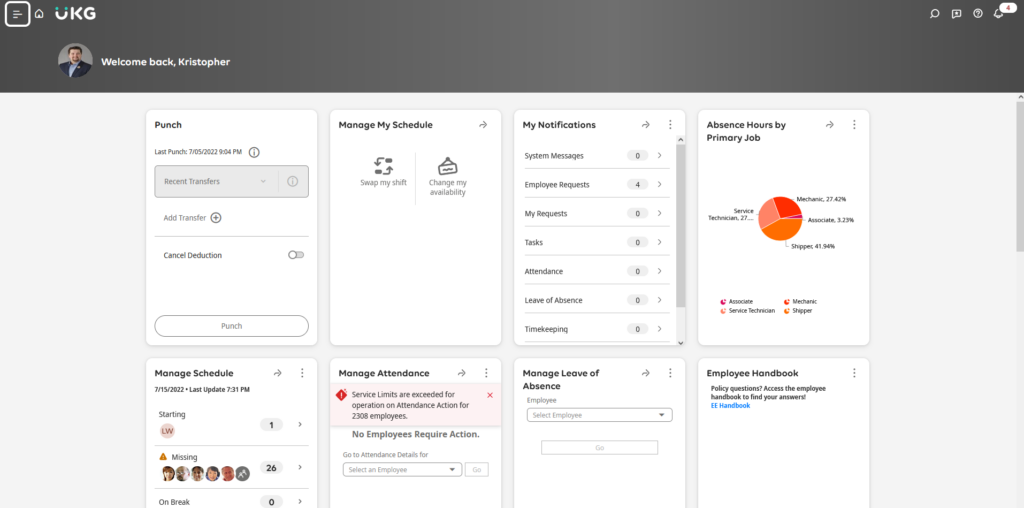 Partial Shift Request to Cover
Release 8 Update 3 allowed you to design request workflows for Partial Open Shifts in Workforce Dimensions. This meant your employees could request a portion of an entire open shift. The update let you put parameters around minimum request length and minimum remaining shift length. You could also determine if your employees had to cover either the start and/or end time of the original shift.
With R9, you can apply the same parameters to the Cover My Shift functionality. Think about the possibilities! Say an employee needs to leave early for an appointment. Now they can offer a portion of their shift to a colleague, rather than having to offer the entire shift.

Team Time Off Calendar
The Team Time Off Calendar piggybacks off Workforce Dimensions' Team Definitions feature. It is employee-facing and displays a heatmap of the number of time off requests a team has on any given day. Your employees will be able to see whether their team has met their time off threshold for that day. It will also let them know if certain periods have higher or lower demand for time off.
To enable this feature, you'll need to set up Team Definitions, a feature that provides approve/refuse recommendations for pending time off requests. You'll also need to change your time off request setup and enable the calendar configuration's Team Absence layer. That's a relatively easy setup to improve time off request transparency.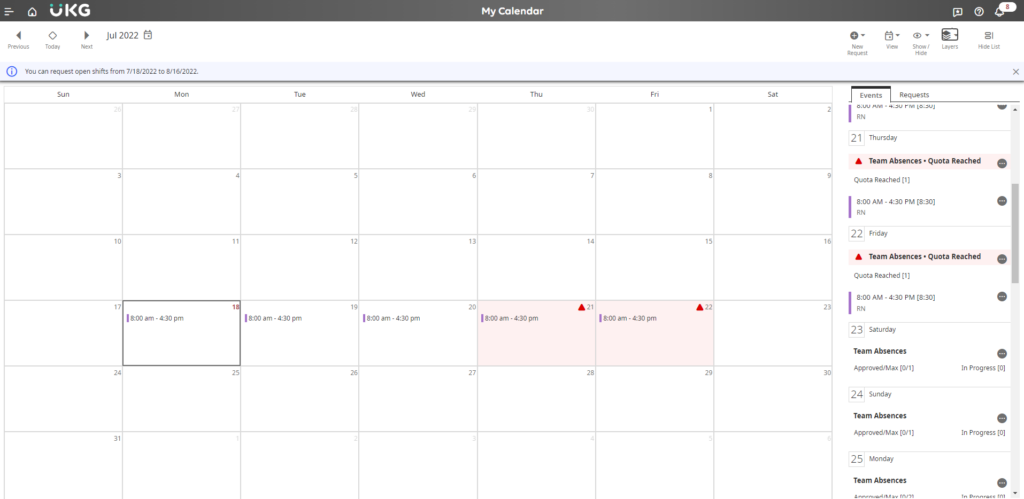 Timecard Rounded Punch View
Have your managers and employees ever asked why their timesheet is being rounded? Now they can see for themselves. By enabling Rounded Punch View via Timecard Settings, your users can now view raw punch data. They can also toggle into the Rounded Punch view to display the system determined rounded punches.
Your users won't be able to modify their timecards while in Rounded Punch view. Timesheets are only editable while viewing the Raw/Actual timecard data.

Automatic Firmware Management
Until now, you have been responsible for ensuring your physical clocks were on the latest firmware. Workforce Dimensions R9 changes that. Now, you can configure your Universal Device Manager to routinely look for new UKG-published Firmware updates for your device types.
This welcome change will transform your device management approach from reactive to proactive! Your clocks will automatically receive these updates via preconfigured nightly Device Events. And those clocks will also re-initialize after they have successfully downloaded the firmware update.
What Next?
UKG have designed these new release features to improve the experience of employees, managers, and administrators. The new tools and transparency will allow them to use the system in a way that fits their work styles.
Need help deciding what combination of new features to leverage? Our UKG subject matter experts have had first-hand experience with these new features. They can support you as you roll-out new features and more! And we can help you identify ways to better utilize your system, from compliance to user experience.